Huizhou Yinghua Electronic Co., LTD always stands at the top of being creative. We are the first toroidal inverter inventor which using the toroidal transformers technology and truly aluminum transformer innovator. We have developed 3-phase hybrid automatic voltage regulator which reach ±3% precision through relay and servo technology combination. 

FOB Guangzhou/Shenzhen; EXW available 
 
We are offering 1 year warranty for all products and parts according.  . We also are offering technical training for you to make better use of our products.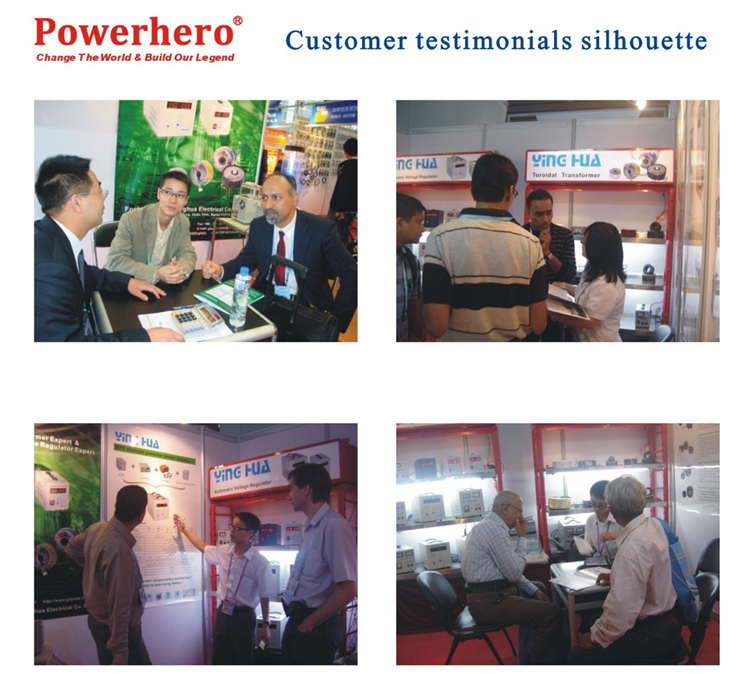 Model No.: WSAB-3P
Brand Name: Powerhero
Surface: Iron cabinet + Led graphic display
Machine Size: 260X275X150
Package: 2pc / ctn,
Carton: Neutral carton
Weight: 20.60kg / ctn
Carton Size: 666X327X233
MOQ: 50 pcs
Payment Terms: 30% deposit then 70% balance before loading
Date Of Delivery: 15~ 20days after deposit
Place Of Origin: Huizhou, Guangdong Province, China
Feature:
Specific design for definite air conditioner usage, most economical
Authentic zero crossing technology
Taylor made C.R.G.O transformers
High performance and high speed MCU control
Independent SMT processing technology
Usage:
Air Conditioners, Water Pumps, TVs home appliances.
Series
WSAB-1P
WSAB-1.5P
WSAB-2P
WSAB-3P
Output Power
750W
1150W
1500W
2300W
Phase
Single
Transformer
C.R.G.O. toroidal transformer
Indicator
LED graphic
Display Status
normal working / time delay / overheat / unusual /over load / over voltage / under voltage
Input range
140Vac~ 260Vac
Output
Frequency
50/60 Hz
Voltage
110 / 120 / 220 / 230 / 240 Vac optional
Precision
± 10%
Protection
overload, high temperature, high / low voltage,short circuit
Delay Function
6 seconds
Efficiency
98%
Cooling System
smart cooling
Environmental
Operating Temperature
0 - 40 ℃
Relative Humidity
10%~102% RH, non condensing
Storage Temperature
﹣15 - 45 ℃
Appearance
Size (Mac. mm)
230x225x125
260x275x149.5
N.W. (kg)   WSAB
4.22
4.76
5.32
9.50
Packing
Qty/Ctn
4
2
Carton Size (mm)
606x572x207
666x327x233
Carton G.W. (kg)
18.88
21.04
23.28
20.60