Quick Details
Place Of Origin: Guangdong, China (Mainland)
Brand Name: Powerhero
Model Number: PSE-2000
Output Power: 1400W
Output Type: Single
Size: 400x200x285
Input Voltage: 24VDC
Output Voltage: 220V
Type: DC / AC Inverters
Output Frequency: 50Hz / 60Hz
Color: Black
Case: Vertical type
Display: LED Graphic
Packaging & Delivery

Packaging & Delivery
Packaging Details:
Machine Size (L x W x H mm): 400 x 200x 285
Carton Size (L x W x H mm): 475x 250x 400
Delivery Detail:
7- 30 days
Specifications:
Solar Power Inverter
Power Capacity: 2000VA, 24VDC
With AVR function
With Charger 10A / 20A
Output: 220V, 50Hz / 60Hz
Applications:
Television,refrigerator, air condition, computer, electric fan, induction cooker,generator, printer, duplicators, lighting equipment, test equipment, and etc.

Description:
PSI-ESeries solar power inverter provides pure sine wave power for commercial,household and industrial applications. Capacity availability range from 500VAto 10,000VA, it can power most common electrical appliances in these fields.Unique toroidal transformer technology, make our UPS (inverter) a very lowexciting current which is the best application for solar system. Its individual AVR function make your appliance work very smooth even if mains power is notstable.
CPU control
CPUcontrol, built in intelligent software offers high precision output.
PWM technology, pure sine wave output
Puresine wave output, suitable for all types of loading includes resistive load,inductive load, complex load…
Toroidal transformer
Inhouse high quality toroidal transformer, gives you more reliable UPS (inverter)with lower exciting current
LED Graphic human machine interface
Input/ output voltage and frequency, battery capacity, loading and etc can be showedon screen.
Sensitive short circuit protection
When short circuit happens, UPS (inverter) will shut down and giving warning.
Sensitive intelligent overload protection
On battery mode, overload more than 110%- 130%,UPS (inverter) will give warning(beeping) for 30 seconds, after 30 seconds, UPS (inverter) will switch off toavoid damage.
On battery mode, overload more than 130%- 150%, UPS (inverter) instantly switchesoff. On mains power model, overload will activate the beeping warning untilloading is reduced to normal range.
Shorter transfer time
<4ms, make sure your IT applications work smoothly
Individual charger
When main power comes back, battery will be recharged automatically even UPS (inverter)was shut off. Charging current has High and Low sort to choose freely.
Individual AVR
Atmains mode, UPS (inverter) can use as Automatic Voltage Regulator.
Full battery protection
Accurate charging and discharging current monitor and control. Intelligent battery auto repair function, extend battery lifespan
Model
PSE-500
PSE-1500
PSE-2000
PSE-3000
PSE-5000
Rated Capacity
500VA
1500VA
2000VA
3000VA
5000VA
NO-LOADING Current (DC mode)
<1.4A
<1.2A
<1.2A
<1.2A
<1.2A
Transformer
C.R.G.O
Interface
LED graphic
Display Status
working & loading & battery
Input
Voltage
140~ 275 Vac
Frequency
45~ 65 Hz
Output
Voltage
220Vac ±1% for inverter; 220Vac ±8% for regulator
Frequency
50/60 Hz ± 0.5Hz, subject to the main
Wave form
Pure sinve wave
Wave distortion
≤ 3%
Protection
Overload
Yes
High temperature
Yes
Output high/low voltage
Yes
Battery low voltage
Yes
Battery
Over charge, over discharge, reversed polarityprotection (optional)
Short circuit
Yes
Transfer Time
≤ 4ms
Battery Voltage
12V DC
24V DC
24V DC
48V DC
48V DC
Charge Voltage
13.8V±0.5V
27.6V±0.5V
27.6V±0.5V
55V±1V
55V±1V
Low Battery Voltage Limit
-
11V ±0.5V
22V ±1V
22V ±1V
44V ±1V
44V ±1V
Battery Low Voltage Protection Point
-
10.5V ±0.5V
21V ±1V
21V ±1V
42V ±1V
42V ±1V
Charge Current
Max. 10- 20A Optional
Cooling system
Yes
Environmental
Operating temperature
0- 40 °C
Relative humidity
10%~ 90% RH, non condensing
Storage temperature
-15 -45 °C
Appearance
Inverter size (mm)
390x142x210
400x200x285
440x242x392
Inverter N.W. (kg)
5.60
9.20
13.20
17.20
23.60
Inner box size (mm)
440x183x260
475 x250x 400
525x310x475
Qty/Ctn
2
1
1
Carton size (mm)
465x405x285
475 x250x 400
525x310x475
Carton G.W. (kg)
13.60
20.60
14.00
18.00
25.20
   Pure sine wave inverter can switch DC electric power into AC power. It also called UPS (Uninterrupted Power Supply). When AC power-down, inverter can contain power supply with DC power and ensure devices normal operation.
  Pure sine wave inverter is widely used in various equipments, such as communication system, aviation, home application; emergency system, fire protection system, vehicle-mounted, boat-mounted, and stage devices. Pure sine wave inverter also can form an EPS (Emergency Power Supply) system.
  Maintenance considerations are as follows:
1、Operating inverter according to users manuals.
2、Switch off when not in use.
3、Put inverter in a safe place to avoid shock.
4、Don't put anything on the top of inverter
5、No excessive sun exposure.
6、Don't watering inverter.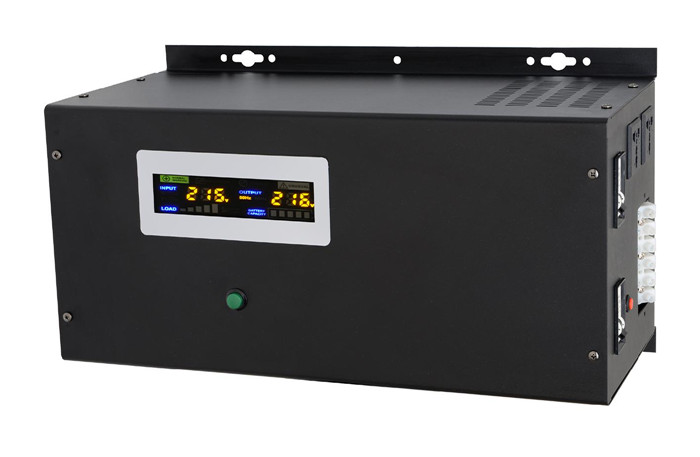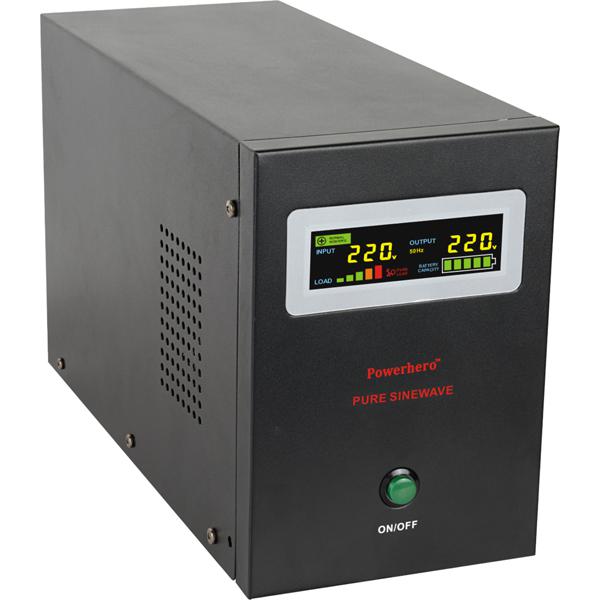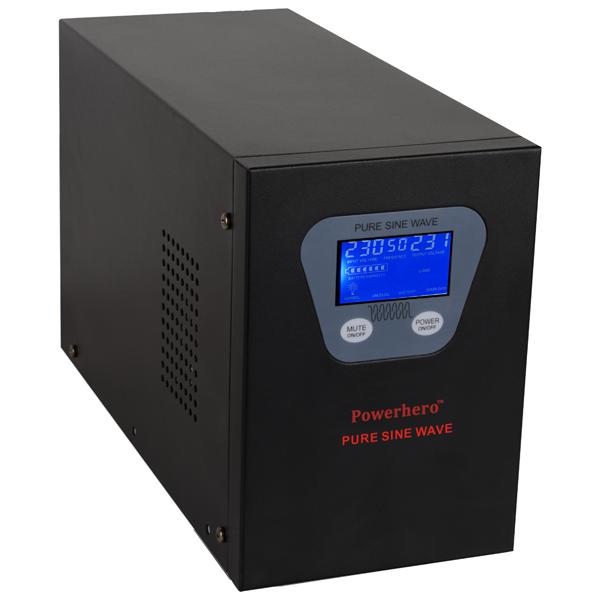 We are offering 1 year warranty for all products and parts according.  . We also are offering technical training for you to make better use of our products.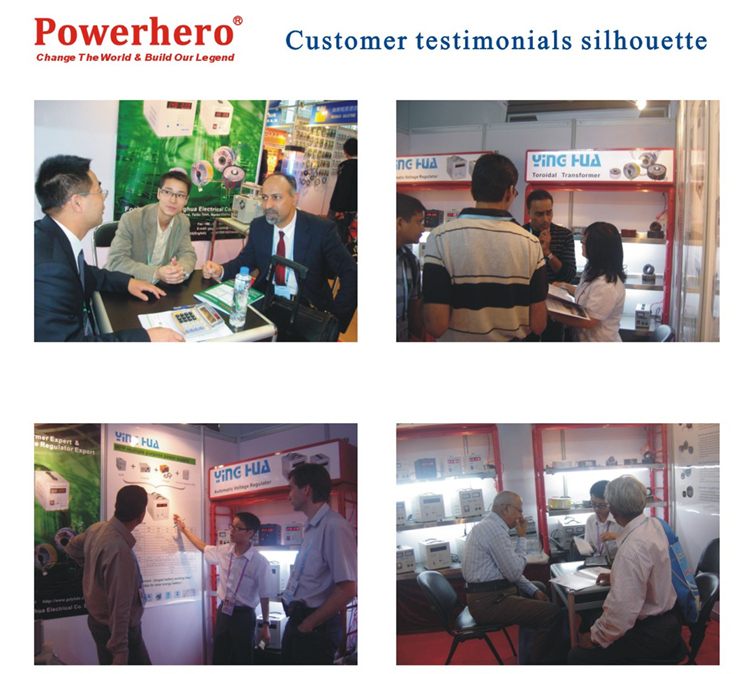 powerhero exhibition sihourtte1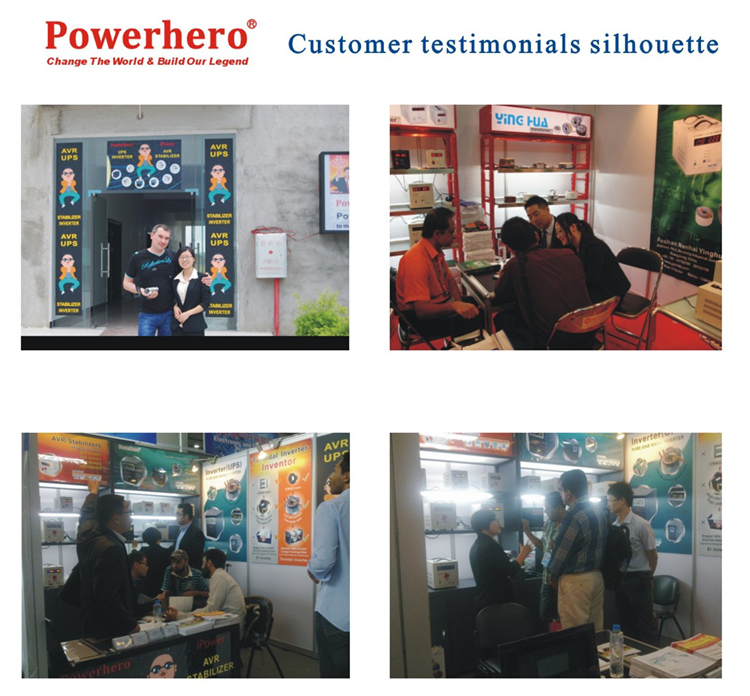 powerhero exhibition sihourtte2