EPSI Series Pure sine wave inverter 
Quick Details
Place of Origin: Guangdong, China (Mainland)
Brand Name: Powerhero
Model Number: EPSI-2500
Output Power: 1800W
AC charging current selected 10A/20A. 
NO-loading current less than 1.2A. 
Size: 355*220*250mm
Output Frequency: 50HZ/60HZ
LED Display selectable 
Packaging & Delivery
| | |
| --- | --- |
| Packaging Details: | Export special carton |
| Delivery Detail: | 20days |
Features : 
With wide AVR range 140-275 Vac gives you stable voltage at mains mode
Big charging current, 3 stage battery charger 
A true sine wave with very low harmonic distortion 
True C.R.G.O toroidal transformer ,lower static loss, more energy-saving 
32-bit high speed MCU control with accurate detection 
Smart digital display 
Integrated frequency automatic tracking technology, generator compatible
Model
EPSI-500
EPSI-800
EPSI-1000
EPSI-1500
EPSI-2000
EPSI-2500
EPSI-3000
Rated Capacity
500VA
800VA
1000VA
1500VA
2000VA
2500VA
3000VA
Rated Power
300W
500W
700W
1050W
1400W
1800W
2100W
Transformer
C.R.G.O
Interface
LED graphic
Display Status
working & loading & battery
Working Mode
PV(Photovoltaic priority) / AC

(

AC priority

)

Optional

Input
Voltage
140~275 Vac
Frequency
45~65 Hz
Output
Voltage
220Vac ±3% for inverter;190V-245V for avr
Frequency
50/60 Hz ± 0.3Hz, subject to the main
Wave Form
Pure sinve wave
Wave Distortion
≤ 3%
Protection
overload / high temperature / output high voltage / output low voltage / battery low voltage / short circuit / over-charge / over-discharge / reversed polarity(optional)
Transfer Time
≤ 4ms
Battery Voltage
12V DC
12V DC
12V DC
24V DC
24V DC
24V DC
48V DC
Charge Voltage
13.8V±0.5V
13.8V±0.5V
13.8V±0.5V
27.6V±0.6V
27.6V±0.6V
27.6V±0.6V
55V±1V
Low Battery Voltage Limit
10.9V ±0.3V
10.9V ±0.3V
10.9V ±0.3V
21.8V ±0.6V
21.8V ±0.6V
21.8V ±0.6V
42V ±1V
Battery Low Voltage Protection Point
10.2V ±0.3V
10.2V ±0.3V
10.2V ±0.3V
20.5V ±0.6V
20.5V ±0.6V
20.5V ±0.6V
41V ±1V
Charge Current
Max. 10A/15A/20A optional
Cooling System
Yes
Environmental
Operating Temperature
0 - 40 ℃
Relative Humidity
10%~90% RH, non-condensing
Storage Temperature
﹣15 - 45 ℃
Packing
Machine Size(mm)
230x145x180
337x146x170
355x220x250
Qty/Ctn
4
4
2
2
1
1
1
Carton Size (mm)
785x305x240
415x410x255
395x272x305
Carton G.W. (kg)
22
26
17.2
19.1
13
14.8
16.1
 Foundeded in 2001, Huizhou Yinghua Electronic Co., LTD. is a professional manufacturer and solution provider of high-quality automatic voltage stabilizers ranging from 500VA to 20kVA, Solar integrated inverters and UPS ranging from 500VA to 10kVA, transformers and converters. With brand  Powerhero and experienced workers, we turn out 50,000 units monthly. Yinghua has been a pioneer of technology since we explored the key technology of aluminum transformer production and we also became the first aluminum transformer supplier. We invested a lot on our R&D team which has designed high performance MCU controlled circuit.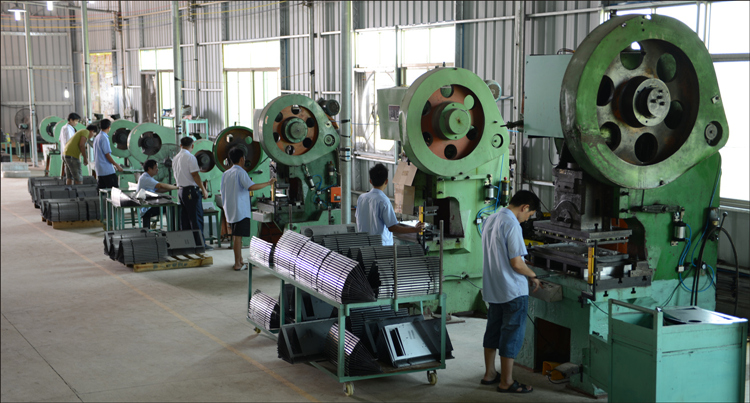 hardware workshop