Huizhou Yinghua Electronic Co., LTD always stands at the top of being creative. We are the first toroidal inverter inventor which using the toroidal transformers technology and truly aluminum transformer innovator. We have developed 3-phase hybrid automatic voltage regulator which reach ±3% precision through relay and servo technology combination. 

FOB Guangzhou/Shenzhen; EXW available 

Quick Details
Place Of Origin: Guangdong, China (Mainland)
Brand Name: Powerhero
Model Number: WSKE-2500VA
Output Power: 1800W
Output Type: Single
Size: 384x219x 275
Weight: 15.8Kgs
Input Voltage: 24VDC
Output Voltage: 110V / 120V / 220V / 230V / 240V optional
Type: DC / AC Inverters
Output Frequency: 50Hz / 60Hz
Color: Black
Case: Vertical type
Display: LED Graphic
Packaging & Delivery
Packaging Details:
Machine Size(LxWxH mm): 384 x 219 x 275
Carton Size(LxWxH mm): 455x 280x 350
Delivery Detail:
7- 30 days
Specifications:
Solar Inverter
Power Capacity: 1800W, 24VDC
With MPPT Charger Controller: 12V / 20A / 30A
With AC charger
Output: 220V, 50H / 60Hz
Applications:
Television, refrigerator, air condition, computer,electric fan, lighting equipment, test equipment, and etc.
Powerhero pure sinewave solar inverter, which integrated solarcharger controller with Max Power Point Trackig function, high charging efficiency, low static loss.

Description:
WSKE series solar inverter provides pure sine wave green power for commercial, household and industrial applications. Capacity Availabilityy range from 500VA to 2500VA, it can power most common electrical appliances in these fields. Unique toroidal transformer technology, makeour inverter a very low exciting current which is the best application forsolar system. Its individual AVR function make your appliance work very smootheven if mains power is not stable.
Model
WSKE-500
WSKE-800
WSKE-1000
WSKE-1500
WSKE-2000
WSKE-2500
Rated Power
300W
500W
700W
1050W
1400W
1800W
Battery Voltage
12Vdc
12Vdc
12Vdc
24Vdc
24Vdc
24Vdc
Working Mode
PV(Photovoltaic priority) / AC(AC priority)optional
PV
Input Voltage Range
12Vdc- 25Vdc
24Vdc- 50Vdc
Max. Charge Current
10A / 20A / 30A / 40A / 60A optional
Max. Conversion Efficiency
98%
Display
Panel Indicator Light
LED graphic screen + LED lights
Mains status(Optional)
Input Voltage Range
140Vac~ 275Vac
Input Frequency Range
45- 65 Hz (automatically transfer to invert mode when overfrequency)
Output Voltage Range
190Vac~ 245Vac
Input PF.(AC/DC)
98%
Efficiency
mains mode≥ 96%
Charge Current
10A
Mains Overload
warning until decrease load
Short Circuit
yes
Inverter Output
Inverter Output Voltage
220V±3%
Output Frequency
50 Hz / 60Hz ± 0.3Hz frequency adaptive
Output Power Factor
≥0.8
Wave Form Distortion
linear load≤ 3%
PV-AC Transfer Time
4Ms typical value Max.6 Ms
Efficiency
invert mode≥ 80%
Inverter Overload
110%- 130% shutdown at 30s,130%- 150% shutdown at 3s
Short Circuit
system automatically shut down
Alarm
Mains Abnormal
1 time / 1S, silence auto after 5S
Low Battery
1 time /1S and flash battery last grid
Overload
1 time / 1S and display "overload" grid
Communication Interface
RS232 (optional)
Others
Output Sockets
universal sockets / customized
Surge Protection
optional
Ambient Temperature
0°C~ 40°C
Ambient Humidity
10%~ 90% (non condensed)
Noise
≤ 50dB
Machine Dimension
384x219x275
Packing Dimension(MM)
455 x280x 350
Qty/Ctn
1
Packing G.W.(kg)
7.80
8.40
9.80
10.80
14.00
15.80
   We are offering 1 year warranty for all products and parts according.  . We also are offering technical training for you to make better use of our products.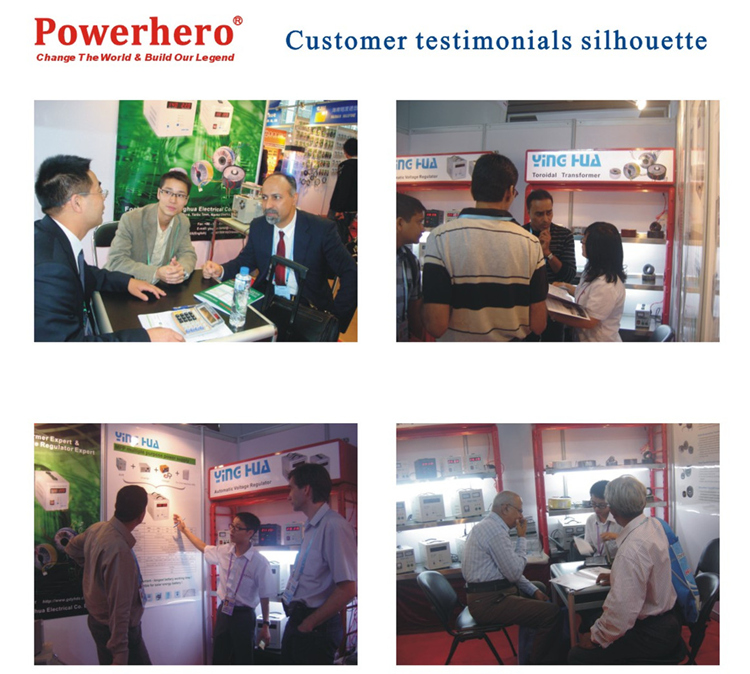 powerhero exhibition sihourtte1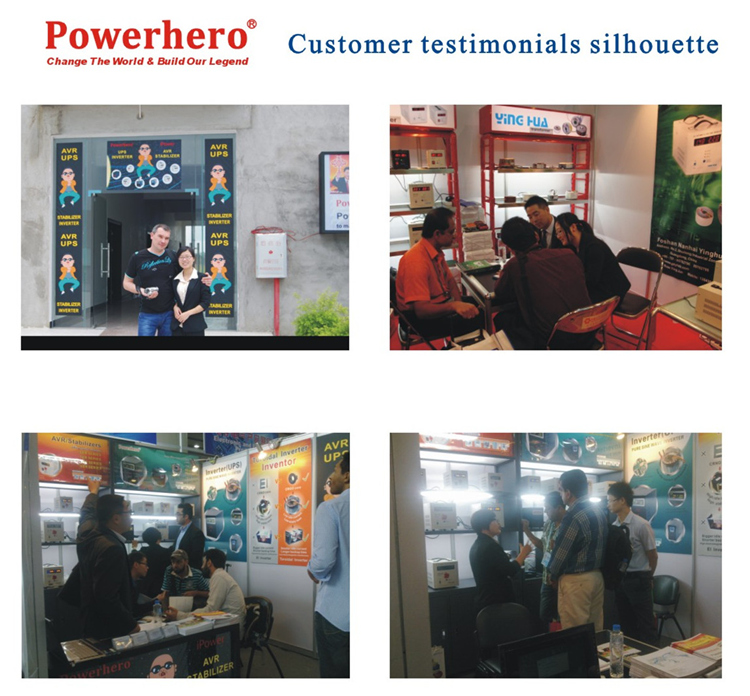 powerhero exhibition sihourtte2